Thursday, June 16, 2011
I joined in on the Handmade Wednesday Hop!!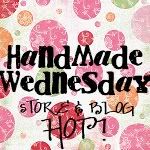 Posted by

DaCraftyLady
at 3:08 PM
1 comment:
Links to this post

Monday, June 13, 2011
O

h my goodness it has been quite awhile since I posted last and I do apologize. I have been swarmed with other obligations and family matters, so back to reading. I have so many books that I want to read and there are so many in my library now that I am not sure when I will have time.
So I have decided, since I joined a gym and I am now exercising daily that I will get a lot of them on audio.com, which by the way is wonderful. Have you all been there and bought audio books? Well if you have not go there and check it out. Its a great way to get your reading in with our busy lives. Especially if you have a communte daily to your jobs. :) They have a monthly fee of $14.95 with the 1st 3 months at $7.95 a month.
But there is one that is the KING of

FREE

audio books! What you say free? Yes FREE....its Librivox check them out it is wonderful!!! Pick Your Brain did some research on this and came up with these ideas. I love that place...
AudioBooksForFree also has a big catalog to sort through, with an emphasis on classic works, but a decent amount of mystery, sci-fi, and thriller as well. The only catch here is that you'll have to pay for quality: the lowest quality downloads are free but anything better than 8 Kbps costs $5-8.
If
you're looking specifically for classics, FreeClassicAudioBooks is a nice little resource. Although the library isn't huge, there are a lot of big names. They also offer the convenience of downloading in an iPod-ready format.
And who knew that on top of all that print content, ProjectGutenberg also has a huge audio section? They've got everything from A to Z, including a decent number of works in French, German, and other languages.
LearnOutLoud has over 500 educational titles and offers a lot of video as well.
If you don't mind older classics you can probably find them for free online all over just "Google" it. But if you want some new ones then you will have to pay a little. But there are a ton of Podcasts out there now too that are free.
Now here is another great source its called Simply Audio Books What I like about this place is that you can rent your books at a lower rate and gain credits towards purchasing books too! A subscription gives you download credits which you can redeem towards books on the site. Audio book prices can vary greatly, but with the download club, you get access to more than 6,000 for one flat subscription rate. One credit = one audio book (Note: a small number of titles, approximately 5%, will require 2 credits to download).
This a place that is sort of like NetFlex. They ship the audio books to you, there are no due dates and no late fees. You listen at your leisure and then return it back to them to get another. Plus they have two ways to use your audio books available in MP3 or M4B format. They charge $14.95 a month too.
Well what am I reading....????? I started Beach Road by James Patterson. I love it so far.. :) lots of suspense and thrills when a triple murder starts the book off....and it moves into a legal battle of evil and innocense to be proven in the courtroom. His books never disappoint me. :)
My next book is the Nortorious Mrs Winston by Mary Macey. This is a bit on the history side but Mackey makes it a suberb story with immagination and crsip style. :) Lots of historial detail that sparks the interest and aset of vibrant chacters. A love story to bring tears and rememberence forever.
So read on gals and let me know which place that you get your books from, whether it is audio, e-books or just plain old paperbacks.....till the next paragraph...
********Don't Miss Out on this Special Buy!
****"Welcome to my reading blog be sure to check out
my store
for beautiful handmade items for the whole family and also "slightly used" treasures in "
Treasures Again
"