I
am starting a New Book that I got in the mail from a gal at the
"The Book Report
Network" to review...Looks like a real THRILLER
and anyone that knows me knows that I love THRILLERS!!!
The author Raymond Khoury, part of the "Authors on the Web" is a New York Times Bestseller author of his
previous best seller, "The Templar Salvation" I will have to read that one after this one.
This one is called "The Devil's Elixir"

[affiliate link]

and was just released in hardcover and
ebook editions on December 22nd. The book features again
FBI agent Sean Reilly and archaeologist Tess Chaykin, who were first introduced in the New York Times bestseller "THE LAST TEMPLAR."

[affiliate link]

However, Khoury's latest novel will appeal to new readers because it stands alone.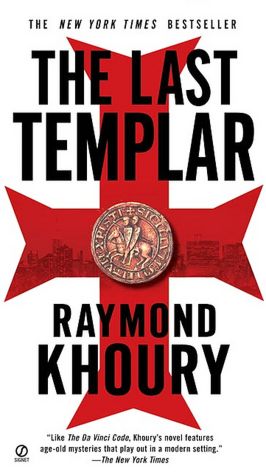 "The Devil's Elixir"

[affilate link] [Kindle Ed]

is written in the first person from Reilly's point of view.
This is a historical thriller and will be enjoyed by many who love to be kept on the edges of their seats! I know I read with my throw so I can hide under it when the parts get too thrilling! lol
"The Devil's Elixir"

[affilate kink]

is about the thought that there is a drug lost in Central America's J
ungles capable of inducing an experience so momentous and so unsettling that it might just shake the very foundations of Western Civilization! And both sides of the law gets wind of this and both are fighting to to get their hands on it first!! Whoa.....
Raymond Khoury's million-copy-selling Templar novels, Reilly and Tess traveled the globe to unravel ancient mysteries with present-day ramifications. In
"THE DEVIL'S ELIXIR", they find themselves dragged into a race-against the clock, against a brutal drug kingpin known as "El Brujo"-the sorcerer-and even against government authorities-to merge two divergent trails, one several hundred years old, the other as current as a heartbeat, that could drag humanity down a whirlpool of pain and destruction.
I haven't started read "The Devil's Elixir"[affiliate link] yet, but starting it this weekend and looking forward to reading read more about this intriguing thriller...so stay tuned for a review real soon...
and I will also be hosting a contest coming up this next week to win
2 e-books
Disclosure of Material Connection: I received this book free from "
AuthorsOnTheWeb,"
A Division of
critique.
The opinions I have expressed are
my own. I am disclosing this in accordance with the Federal Trade
Commission
's 16 CFR, Part 255: "Guides Concerning
the Use of Endorsements and Testimonials in Advertising."