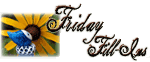 1.
There is absolutely NO way you can get me to
go on a roller coaster, go into a cave, or jam into a crowed room! I am too clostrophobic for any of these feats.
2. Watching all the sparrows splashing in my pond
reminds me that summer is almost here
!
3.
I cannot live without
my yarn, a good book, and my computer. Sad I know, but I am an online junkie, then I crochet or knit a bit, and then I settle outside on my favorite chair with a good book.
4. Taking a cake decorating class and ballroom dancing are
two things I'd like to try.
5.
When life hands you lemons
squeeze them out and move forward to find the apples.
6. Helping my Dad build our summer cabin when I was 9 yr old, actually I just carried him the nails, but it was the closness with him I enjoyed the most as
my favorite childhood memory
.
7.
And as for the weekend, tonight
I'm looking forward to dinner out,
tomorrow
my plans include planting my new assylums
and Sunday
, I want to go down to the beach after church!